Next YMS meetings
10:30am every Thursday
The Armadillo Cafe, Yate Shopping Centre
Bacon Rolls + Hot drinks available to buy
or/and
Every Monday 13:30 - 16:30 & Friday 09:00 - 12:00 (Parish Hall)
----------------------------------------------------------
Yate Men's Shed Events
All dates below are subject to meeting the UK lockdown exit criteria
10/06/2023 12noon - 5pm Old Sodbury Fair - The Green, Old Sodbury
Supported by
Yate Town Council




Last Updated - 20/06/2022
Click on pictures for more detail
YMS Table Tennis
The YMS Table Tennis Group is made up of both men and women of mixed ability. We mainly play doubles at Yate Parish Hall.
Click here or in the photo above to find out more
Sausage or Bacon Roll £2 for members (£5 for visitors) all including hot drinks and free beverage top ups.
YMS has decided to switch the Friday session from afternoons to mornings.
We will open at 9 am and finish by 12 noon. Try to drop in before 10am for a breakfast roll or anytime if you have already eaten.
Up until c10am both Sausage & Bacon rolls will be available (normally £2 each)
Extras like - fried egg, Black Pudding etc. can be added at 0.50p per item
Come and join us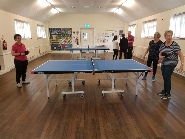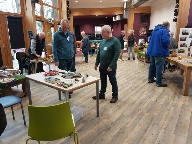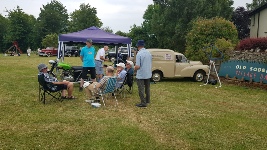 Above - Old Sodbury Village Fete
10th June 2023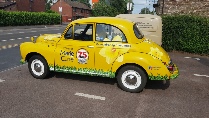 Left -
Miranda - MMOC
Working with Marie Curie to raise donations